Why are you wasting your time cutting vegetables?
If you are tired of cutting by hand, this cutting machine is one of the best tools in your kitchen.
Our grater will make your work faster and smoother.
Multipurpose vegetable cutter
The cutter is patented, designed and manufactured in Germany. It has super sharp, precise blades made of stainless steel, which makes it the fastest and most precise planer in the world. Perfectly designed to make work in your kitchen easier and faster.

HOW TO USE THE VEGETABLE CUTTER?
The plane has 3 interchangeable blades.

All blades can easily be changed by hand.

Brush your food over the blades and let the slicer do the hard work. You will find food that is evenly cut every time!
USAGE INSTRUCTIONS
Best for cutting long vegetables like cucumbers and carrots into shorter lengths, use safety holders before cutting for more control and safety.

When using this slicer, push the food down towards the blade instead of pulling it because it is 8x faster than other slicers.

When doing heavy slicing, don't forget to use a bowl inside the slicer.
EASY TO CLEAN

Cleaning our cutting machine is very easy. Simply remove the blade and wash it under running water with a cleaning brush.

We recommend cleaning with a brush to properly remove residue on the cutting machine.
SPECIFICATIONS:
Color: silver

Weight: 189G

Size: 30 * 7CM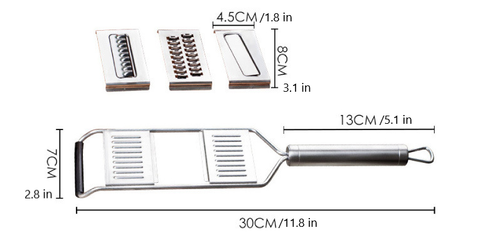 Material: stainless steel

Package: 1 * Multipurpose Vegetable Cutter Set